Summer Workshop for Activity Providers
Join Active Canterbury for an afternoon of ideas for activity providers in Christchurch. This training counts as 2.5 CPDs if you attend the entire workshop.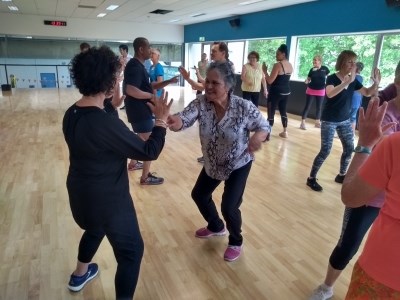 Date: Saturday 28th March 2020.
Time: 12.30 to 4.30pm.
Location: Pioneer Recreation Centre (75 Lyttelton Street, Somerfield).
The first half of this FREE workshop will focus on the dos and don'ts when working with older adults. This session will be run in collaboration with the Sport Canterbury Live Stronger for Longer team and will cover key exercise considerations to allow you to plan and instruct a safe and effective class for over 65s.
The rest of the workshop will include:
Staying well with the 5 ways: Ciaran Fox from the All Right? campaign will show how the '5 ways of wellbeing' can help us from both a professional and personal perspective.
Square dancing: An opportunity to think out of the box and sample a different movement modality.
In the spotlight: Group instructor of the year 2019 Danielle Mather will share the key characteristics she believes all good group instructors need to have.
This Active Canterbury workshop is designed for local activity providers who support others to be active, those who instruct group fitness or work in community exercise. Tertiary students and trainee instructors are also welcome!
Here's what others have to say about these workshops:
"The knowledge and skills I have gained will definitely enrich my classes..."
"Great variety of information at a good level."
"Always informative and really supercharges me..."
Contact Kris Tynan for more information on this workshop (021 262 8886 or kris.tynan[at]xtra.co.nz).
Registrations close at noon on Friday 20th March 2020. Spaces are limited!

Register online for the summer 2020 Active Canterbury workshop.