Swimming Pools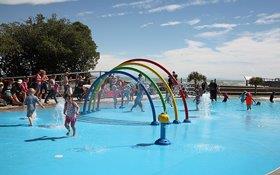 A visit to your local pool is a fun family activity that builds water confidence. There are some great facilities across Canterbury that are family friendly and the perfect place to burn off some excess energy.
Around Christchurch City
Greater Christchurch and surrounding districts
Summer pools open from Show Weekend
Break out your togs! Most of Christchurch's outdoor pools will officially open at Show Weekend, including those in Selwyn and Waimakariri Districts.
All pools in the greater Christchurch area will be open by early December 2017.
Pre-schoolers swim for free during school hours
All pre-schoolers can swim for free during school hours at any Christchurch City Council pool until 13th April 2018.
The Council's Annual Plan 2017/18 aims to make swimming more accessible for pre-schoolers and those with Green Prescriptions.
Pre-schoolers and one caregiver accompanying them will get free access to any Christchurch City Council pool from 9am to 3pm on school days. Weekends, public holidays and school holidays are excluded from the trial.
Find out about the CCC SwimSmart membership programme that aims to help children and teenagers learn to swim and be water confident.