Swimming Pools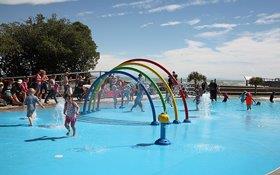 A visit to your local pool is a fun family activity that builds water confidence. There are some great facilities across Canterbury that are family friendly and the perfect place to burn off some excess energy.
Around Christchurch City
Greater Christchurch and surrounding districts
Find out about the CCC SwimSmart membership programme that aims to help pre-schoolers, children and teenagers learn to swim and be water confident.
Early Birds make big splash at Christchurch's Taiora QEII
Early birds of all ages are flocking to Taiora QEII for fun, friendship and fitness.
At least 50 people visit Taiora QEII regularly on Mondays, Wednesdays or Fridays between 5.30am and 9am to enjoy a swim, the gym and a social session.
They make up just a quarter of the nearly 200 members of the QEII Early Birds Club - ranging in age from those still going off to work to several in their late 80s and one member nearing 100.
Club Secretary Shirley Forbes is 82 and says the Early Birds Club is a "wonderful way to keep fit and socialise with our friends".
"We need to stay healthy, active and independent," she says. "The east has been badly affected by the earthquakes and it is very important to get people out to exercise and make new friends.
"With the different communities now changed, so many people are isolated and very lonely. We do our exercise first then relax with breakfast, a cuppa and entertainment".