Swimming Pools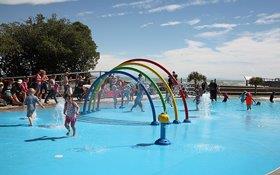 A visit to your local pool is a fun family activity that builds water confidence. There are some great facilities across Canterbury that are family friendly and the perfect place to burn off some excess energy.
Around Christchurch City
Greater Christchurch and surrounding districts
Admission increase at Selwyn Aquatic Centre from February
Admission prices at The Selwyn Aquatic Centre are set to rise on Thursday 1st February 2018 - for only the second time since the Centre opened in June 2013:
Adults: $6 (was $5.50).
Students: $5 (was $4.50).
Children: $3.50 (was $3.20).
Family group, memberships and concession card pricing have also increased, and holders of Gold Card and Community Services cards can receive discounted fees.
Aquatic Facilities Manager Kathy Moore says the Centre's prices have been well researched during the annual pricing review and took into consideration increasing annual costs such as electricity, staffing, pool chemicals, and maintenance. "The new pricing is in line with other similar facilities in Canterbury such as Christchurch City Council pools, and aims to acheive a 50/50 cost with user pays and rates subsidy" she says.
Find out more about the Selwyn Aquatic Centre.
Pre-schoolers swim for free during school hours
All pre-schoolers can swim for free during school hours at any Christchurch City Council pool until 13th April 2018.
The Council's Annual Plan 2017/18 aims to make swimming more accessible for pre-schoolers and those with Green Prescriptions.
Pre-schoolers and one caregiver accompanying them will get free access to any Christchurch City Council pool from 9am to 3pm on school days. Weekends, public holidays and school holidays are excluded from the trial.
Find out about the CCC SwimSmart membership programme that aims to help children and teenagers learn to swim and be water confident.