Active with a disability
Evidence shows that regular physical activity provides important health benefits for people with disabilities, such as:
stroke survivors,
people with spinal cord injury,
multiple sclerosis,
Parkinson's disease,
muscular dystrophy,
cerebral palsy,
traumatic brain injury,
limb amputations,
mental illness,
intellectual disability, and
dementia.
The benefits include improved cardiovascular and muscle fitness, improved mental health, and better ability to do tasks of daily life.
Most people with disabilities are capable of doing physical activity on a regular basis with support from their health-care provider, and should aim to achieve the recommended daily activity levels. Studies show that physical activity can generally be done safely when the activities are specifically tailored to an individual's abilities.
Doing Sport Differently is a guide for people with lived experience of disability or health conditions. This useful resource from Disability Rights UK outlines the benefits of being active and provides guidance on how to get started.
Local contacts for support and help to get started
Aspire Canterbury provides a friendly 'one stop' service for advice and information, linking disabled and older people to providers of leisure and recreational activities and offering a range of support and resources for independent living.
Activelinks provides support to get active through physical activity, sport, recreation and leisure pursuits. The aim of the service is to promote independence and involvement in community life with a focus on health and wellbeing. Support can be individual or through a group.
Green Prescription provides support and motivation to increase your physical activity levels. This free service provides the guidance to get started and get active, whether you are new or returning to physical activity.
Halberg AllSports is a community programme to enhance the lives of physically disabled young people by enabling them to participate in sport and recreation, and is run by the Halberg Disability Sport Foundation.
The Helen Anderson Trust provides day service support to Christchurch adults with intellectual disabilities to foster a sense of independence, personal confidence and equip them with life skills. This includes participating in The Duke of Edinburgh's Hillary/Helen Anderson Trust Challenge Awards and taking part in sport and recreation activities such as the Special Needs Tee Ball Competition in assocation with Softball Canterbury.
Activity ideas for those with a disability
View the Aspire Canterbury list of leisure and recreation organisations in Christchurch.
Use the Activity Search to find a local group or organisation for advice and support to help you get started and begin achieving your activity goals.
New Zealand Riding for the Disabled Association (NZRDA) is a charitable organisation providing opportunities for anyone with a disability to enjoy safe, healthy, stimulating, therapeutic horse riding and horse-related activities.
The Southern Centre is a multi-sensory recreational environment for people of all ages and abilities. The Southern Centre Sensory Room is located on the first floor at Pioneer Recreation and Sport Centre, and is a partnership that incorporates the Christchurch City Council and The Southern Centre Charitable Trust.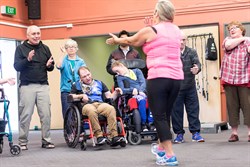 FUNky Movements is a low intensity exercise class combining gentle exercise, circuit and mind/body exercises. This 45-minute class is aimed at people with various abilities and costs $5.50 per person with a free support person. The class runs at:
QEII Fitness Taiora (193 Travis Road); and
Jellie Park Recreation and Sport Centre (295 Ilam Road).
The KiwiAble leisure card offers card holders discounts at over 30 local places in Christchurch. Some places also offer discounts for support people.
Home based activities are a great way to be regularly active without needing lots of equipment. The Green Prescription team have developed a great range of home based activities sheets plus demonstration videos to help you get moving at home.